Retails BP-708 Bluetooth Mobile printer
Model: BP-708
* Mini size, Lightweight
* 1600mAH, 7.4V rechargeable li-ion battery, quick charge
* Continuously work and stand by for 72 hours
* 58mm/s high printing speed
* Standard interface: USB; Bluetooth
* Support various languages, easy to use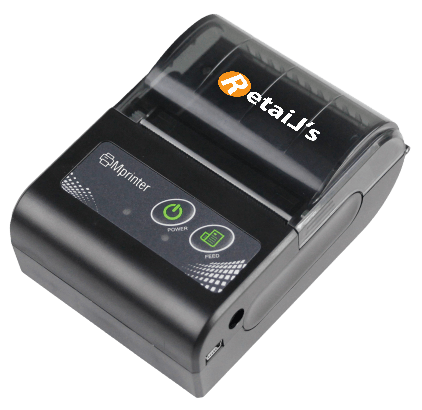 Retails Bluetooth Mobile printer BP 708
Product Name
58mm buletooth mobile thermal printer support IOS Android system
Printing Method
Thermal Line Printing
Print Width
48mm
Print Density
384 dots / line
Print Speed
90mm/s
Interface
USB+ Bluetooth
Paper Width
58mm
Roll Diameter
50mm
Paper Thickness
0.06-0.08mm
Print Command
ESC/POS
Character Size
12*24 point
Code Type

1D:Code39,DODE128,UPC-A,UPC-E,JAN13(EAN13),JAN8(EAN8),ITF,CODE93,

CODEBAR

2D:QR CODE

Input Buffer
512K bytes
Power Adapter
Input AC220V; output DC9V/1A
Lithium Battery
1600mAh/7.4V
Charging Time
3 hours
Operating System
Android, IOS, Windows
Mechanical Properties
50KM
Weight
0.24KG
Dimensions
120*80*50mm
Working Environment
Temperature 0℃ ~50℃; Humidity 20%~85%
Storage Environment
Temperature -20℃~60℃, Humidity 5%~95%
Retails Bluetooth Mobile printer BP-708 Price
Compact and Lightweight Printing Power
Miniature Size for On-the-Go Convenience
Introducing the Retails BP-708 Bluetooth Mobile Printer, a compact and portable printing solution that revolutionizes mobile printing. With its mini size, this printer fits seamlessly into your pocket or bag, making it ideal for on-the-go professionals. Experience the freedom of mobile printing without compromising on performance or quality.
Unmatched Lightweight Design for Ultimate Portability
Say goodbye to cumbersome printing equipment. The Retails BP-708 Bluetooth Mobile Printer weighs a mere 200g, including the paper roll and battery. Its lightweight design ensures that you can carry it effortlessly, whether you're in the office, on-site, or traveling. Never be weighed down by heavy printing devices again and enjoy the freedom of mobility.
Uninterrupted Performance and Versatile Connectivity
Long-Lasting Battery Life for Continuous Printing
The Retails BP-708 Bluetooth Mobile Printer is equipped with a powerful 600mAH, 7.4V rechargeable li-ion battery. Experience the convenience of extended printing sessions without the need for frequent recharging. With its quick charge capability, you can rapidly replenish the battery and resume your printing tasks efficiently. Enjoy uninterrupted productivity and focus on what matters most.
Standby for 72 Hours, Ready Whenever You Need It
Stay prepared for any printing requirement with the Retails BP-708 Bluetooth Mobile Printer. With its impressive standby time of 72 hours, this printer remains ready to spring into action whenever you need it. Whether you're in a bustling business setting or on a remote job site, rest assured that your printer will be there, eliminating downtime and keeping your workflow smooth.
Swift Printing Speed and User-Friendly Experience
High-Speed Printing for Efficient Output
Experience the power of rapid printing with the Retails BP-708 Bluetooth Mobile Printer. With its remarkable printing speed of 58mm/s, this printer ensures that your documents, receipts, and labels are produced quickly and efficiently. Save valuable time and increase productivity, all while maintaining excellent print quality and clarity. Stay ahead of deadlines and deliver results promptly.
Seamless Connectivity and Language Support
The Retails BP-708 Bluetooth Mobile Printer offers versatile connectivity options to suit your needs. With standard interfaces like USB and Bluetooth, you can effortlessly connect to your devices and start printing without hassle. Additionally, this printer supports various languages, ensuring that language barriers are never an issue. Enjoy a user-friendly experience with easy setup and compatibility across different systems.
Retails Technology
Retails Technology Co. located in Guangzhou, China. It's a high-tech enterprise specializing in thermal printing equipment, Printing & POS Hardware solutions. We are professional manufacturer of thermal printer including POS printer, mobile printer, receipt printer and barcode printer and POS terminal machines. We devote to becoming the world's leading printer manufacturer and service provider. Our products meet different industries' needs including supermarket, catering, hotel, hospital, ticketing, transportation and logistics, health care and retail. Milestone not only has strong capacity of R&D in hardware but also makes breakthrough in software technology.