Retails Thermal POS Printer 80mm
Model: TPP-809L
* Auto cutter
* Big gear, long-life, high speed, durable
* Support successive, linerless paper
* Fast printing
* Low noise direct thermal printing
* Exquisite design and easy to use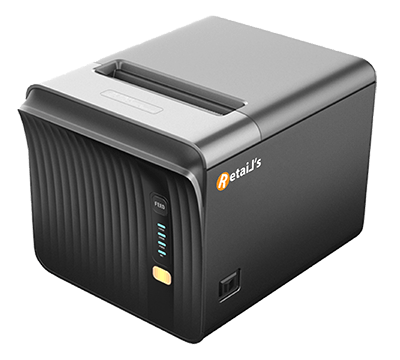 Retails TPP-809L Thermal POS Printer
Printing method

Direct thermal printing

Effective printing width

72mm or 64mm

Resolution

203dpi(8 dots/mm)

Printing speed

250mm/s

Printing density

504 dots/line or 576 dots/line

Character set

GB18030 (Simplified Chinese)

Print font

ASCII Font A:12*24

ASCII Font B:9*24

Chinese: 24×24

Character per line

Font A-42 lines or 48 lines/Font B-56 lines or 64 lines/Chinese-21 lines or 24 lines

Paper width

79.5±0.5mm

Paper roll diameter

Φ80mm

Paper loading

Easy paper loading

Barcode type

UPC-A,UPC-C,EAN-13,EAN-8,CODE39,ITF,CODEBAR,CODE93,CODE128

MCBF

6 million lines

Thermal printing head

100 million impulses (100km)

Auto cutter

1 million cuts

Interface

RS-232, Parallel, USB, Ethernet

Paper out detection function

optional

Emulation

ESC/POS/OPOS

Driver

WIN98/WIN2000/WINNT/WINXP/OPOS/

 

WIN7/WIN8

Power supply

DC 24V,2.5A

Cash drawer Control

DC 24V,1A

Certificate

FCC、CE, RoHS

Dimension (LxWxH )

194×138×135mm/ 1.3kg

working temperature: 0~45℃

Storage:-10~50℃

Humidity

working temperature: 10-80%

Storage:10-90%(paper exclused)
Retails POS Printer
Efficiency and Durability for High-Speed Printing
Experience the power and precision of the Retails TPP-809L Thermal POS Printer, designed to revolutionize your printing needs. With its advanced features and cutting-edge technology, this printer is the ultimate solution for businesses seeking efficient and reliable printing solutions.
Retails Thermal POS Printer TPP-809L Driver Download
High-Speed Performance: Say goodbye to waiting in long queues! The Retails TPP-809L boasts lightning-fast printing speeds, ensuring that your receipts, tickets, and labels are printed in a matter of seconds. Never miss a beat during peak hours, allowing your business to thrive even during the busiest times.

Auto Cutter for Seamless Operations: Eliminate the hassle of manual cutting with the built-in auto cutter feature. This innovative functionality ensures clean, precise cuts after each print job, saving you time and effort. Say farewell to tedious manual cutting and hello to effortless productivity.

Long-Life and Durable Construction: Designed to withstand the demands of a busy retail environment, the Retails TPP-809L is built to last. Its robust construction ensures durability and reliability, guaranteeing continuous operation even in high-intensity settings. Invest in a printer that can keep up with your business's growth.
Versatility and Ease of Use
Discover the versatility and user-friendly interface of the Retails TPP-809L Thermal POS Printer. Seamlessly integrate this printer into your existing systems and enjoy its effortless functionality, tailored to enhance your daily operations.
Retails TPP-809L Thermal POS Printer Driver Download
Support for Successive Printing: Streamline your printing process with the support for successive printing. Print multiple documents or labels without any interruptions, allowing you to maximize your efficiency and focus on serving your customers. Keep the momentum going with this convenient feature.

Linerless Paper Compatibility: Embrace eco-friendly practices with the Retails TPP-809L's linerless paper support. Reduce paper waste and costs by eliminating the need for traditional liner paper. With its compatibility for linerless paper, this printer contributes to a greener future while maintaining exceptional printing quality.

Exquisite Design and Easy to Use: Combining functionality with elegance, the Retails TPP-809L features an exquisite design that complements any modern workspace. Its user-friendly interface ensures a seamless printing experience, even for those new to thermal POS printers. Say goodbye to complicated setups and hello to effortless usability.
Quiet, Reliable, and Precise Printing
Experience the tranquility of a quiet printing environment without compromising on speed or quality. The Retails TPP-809L Thermal POS Printer employs advanced technology to deliver high-quality prints with minimal noise, providing an optimal experience for both your staff and customers.
Printing: Experience lightning-fast printing speeds without sacrificing tranquility. The Retails TPP-809L Thermal POS Printer combines high-speed performance with low noise levels, ensuring a peaceful and efficient printing environment. Say goodbye to disruptive noise and hello to smooth, uninterrupted operations.
Retails Thermal POS Printer Driver Download
High-Quality Direct Thermal Printing: With the Retails TPP-809L, expect nothing less than exceptional print quality. Its direct thermal printing technology delivers crisp, clear prints, perfect for receipts, labels, and tickets. Impress your customers with professional-looking documents that showcase your attention to detail.

Seamless Integration and Compatibility: The Retails TPP-809L is designed to seamlessly integrate into your existing systems. Its compatibility with various POS software and systems ensures a hassle-free setup process. Enjoy a smooth transition and enhanced productivity with this printer that effortlessly adapts to your business needs.

Reliable and Long-Lasting Performance: Trust in the reliability and longevity of the Retails TPP-809L. Built with durability in mind, this printer can withstand continuous, high-volume usage without compromising performance. Invest in a printer that delivers consistent results and stands the test of time.