Retails MPT-R3 Mobile POS Terminal
Model: MPT-R3
* Support GSM 2G/3G, Wifi, Bluetooth, GPS,GPRS With
* 7 V low-power printer, longer endurance
* With 1.5W high power speaker
* Innovative, all-in-one design,
* With fixed-focus camera, for identify QR code
* 7 Integrated sensors, for environment self-adaptation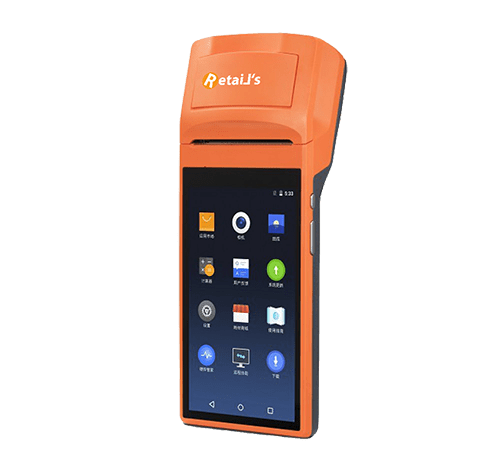 Retails Mobile POS Terminal MPT-R3
OS
Android 8.1(NEW VERSION)
CPU
ARM Cortex-A7 Quad Core 1.3GHZ
Storage( Flash)
8G ( 16G optional)
Memory (RAM)
1G (2G optional )
LCD Screen
5*HD,1280*720,IPS
ouch Screen
Capacity Multi-point Touch Screen
Camera
5 Megapixel Auto Zoom Camera
Bluetooth
Support V2.1+EDR,3.0+HS,V4.0,BLE,iBeacon
NFC
Optional
Roll diameter
Max.40MM
Button
Power On Button,Volume Up Volume Down
GPS
Support GPS,A-GPS
WIFI
Single-band(2.4GHz) Single Stream;Support 802.11 b/g/n
Speaker
Single Track 1W,Volume Up To 90DB(Adjustable)
Microphone
1*MIC, Acoustic Wave Payment Supported
Wireless Data
2G/3G(GSM+WCDMA);GSM(850/900/1800/1900)+WCDMA (850/900/1900/2100)
Printing
Thermal Line Printing
Printing paper width
58M
Printing speed
MAX 70mm/s
Printer service life
50KM
Interface
Micro USB2.0,support OTG,SIM Card Slot
Battery
3.7v/7800mAh
Thimble Type

Input:AC100-240V/1.5A,50/60HZ;

Output:DC5V/1A

Charging Base
N/A
Dimension
190x80x55mm/0.5kg
Box Size/Weight
  205*90*85mm/0.6kg
Carton Size/Weight
  10 units/ carton  480*220*220mm/6.05kg
Retails Mobile POS Terminal MPT-R3 Price
Advanced Connectivity and Printing Power
Stay Connected Anywhere with Multi-Connectivity Options
Introducing the Retails MPT-R3 Mobile POS Terminal, a versatile and reliable solution designed to elevate your point-of-sale experience. With support for GSM 2G/3G, WiFi, Bluetooth, GPS, and GPRS, this terminal ensures seamless connectivity in any environment. Stay connected to your network, access online services, and process transactions with ease, regardless of your location.
Efficient Printing with Extended Endurance
Experience unmatched endurance with the Retails MPT-R3 Mobile POS Terminal. Equipped with a low-power 7V printer, this terminal delivers reliable printing capabilities while optimizing energy consumption. Say goodbye to frequent recharging or battery replacements and enjoy prolonged usage time, allowing you to serve more customers and conduct transactions without interruptions.
Enhanced Audio and Multifunctional Design
Immersive Sound with High-Power Speaker
Take your customer interactions to the next level with the Retails MPT-R3 Mobile POS Terminal's 1.5W high-power speaker. Deliver clear and immersive audio experiences, whether it's for voice prompts, notifications, or customer engagement. Make an impact with crystal-clear sound quality, ensuring that your messages are heard loud and clear.
Innovative All-in-One Design for Optimal Functionality
Experience the pinnacle of convenience with the Retails MPT-R3 Mobile POS Terminal's innovative all-in-one design. This terminal combines various functionalities into a single device, offering a highly recognizable and efficient solution. With expandable storage capabilities, you can effortlessly store transaction data and important information without worrying about cleaning cache. Simplify your operations and streamline your workflow with this versatile and intuitive design.
Intelligent Capabilities and Adaptability
Effortless QR Code Scanning with Fixed-Focus Camera
The Retails MPT-R3 Mobile POS Terminal comes equipped with a fixed-focus camera, enabling seamless QR code scanning capabilities. Identify QR codes swiftly and accurately, facilitating smooth transactions and efficient data capture. Embrace the power of digital payment methods and enhance customer convenience with this built-in camera feature.
Enhanced User Experience with Integrated Sensors
The Retails MPT-R3 Mobile POS Terminal boasts integrated sensors for environment self-adaptation and an optimal user experience. These sensors enable the terminal to adapt to various environmental conditions, ensuring consistent performance and reliability. Enjoy a seamless and intuitive user interface, providing a hassle-free experience for both you and your customers.
different systems.