Retails Tab R23
Model: R23
Display resolution: 1280*800
Operating System: android 12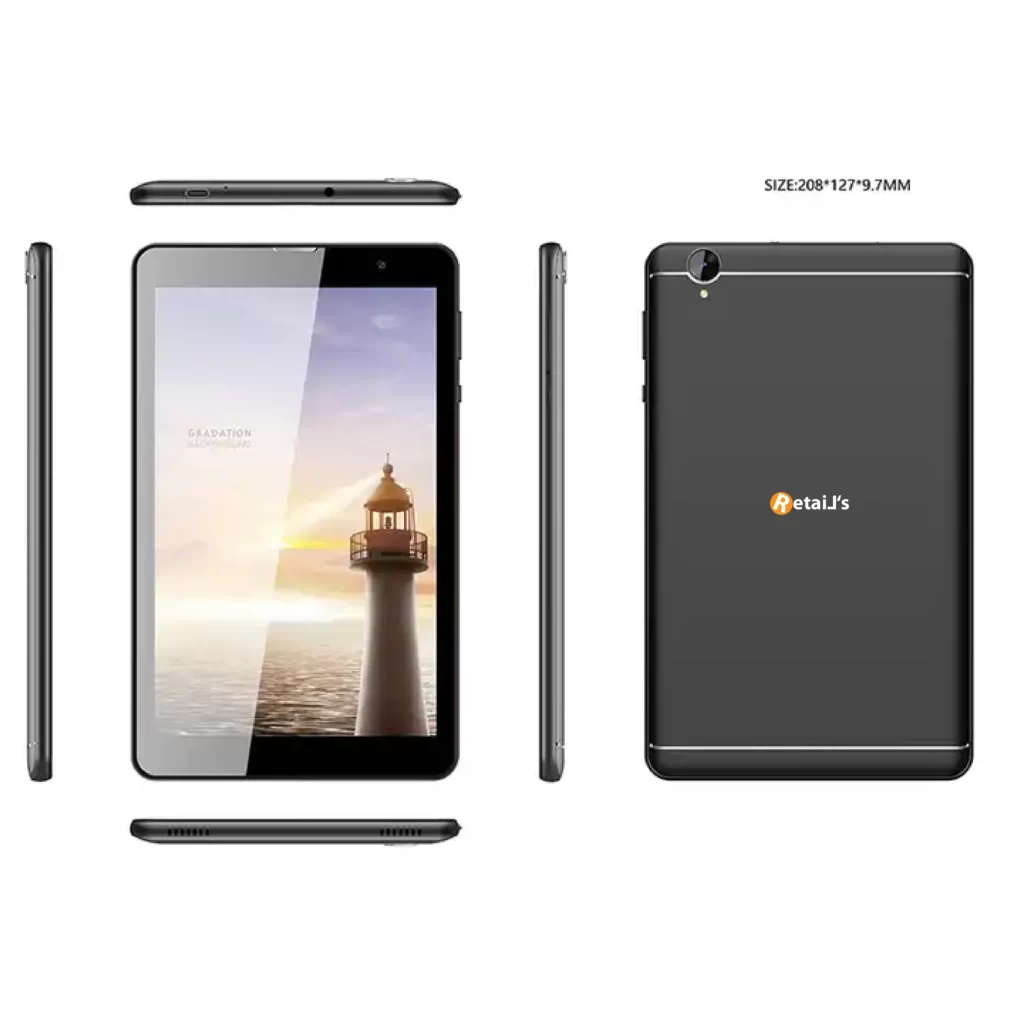 Retails Tab R23 8 inch tablet octa core android 12 with BT WiFi GPS
| | |
| --- | --- |
| item | 8" inch 4G tablet pc |
| Warranty(Year) | 1-Year |
| Screen Size | 8″ |
| Scenarios | For Professional |
| Feature | Hard, SDK available |
| charging interface | USB Type C |
| Drive Interface | USB Type C |
| After-sales Service | Call Center and on-line Technical Support, Repair |
| Products Status | New |
| Processor Manufacture | MTK |
| Processor Type | Octa Core |
| Processor Main Frequency | 2.0GHz |
| Memory Capacity | 4gb |
| Touch Screen Type | Capacitive Screen |
| Display resolution | 1280*800 |
| Operating System | android 11 |
| Weight | 500g |
| Place of Origin | China |
|   | Guangdong |
| Brand Name | oem |
| Model Number | B8 |
| Type | Tablet PC |
| Use | Industrial |
| Network | wifi, GSM, 4g, 3G |
| Warranty(Year) | 1-Year |
| Screen Size | 8″ |
| Processor Type | MTK6762 Octa core |
| Display resolution | 1280*800 |
| Touch Panel | G+G Capacitive Touch Panel |
| RAM/ROM | 4GB+64GB |
| Battery | 5000mAh |
| Language | Support Multi-language |
| Camera | 2+5MP |
| Operating System | android 12 |
Retails Tab R23 8 inch tablet octa core android 12 with BT WiFi GPS
Introducing the Retails Tab R23, an 8-inch 4G tablet PC designed for professional use, boasting a range of features that make it a standout choice in the world of industrial tablets. With a 1-year warranty, this tablet ensures reliability and performance, making it a dependable companion for various applications.
Driven by an MTK6762 Octa-core processor with a main frequency of 2.0GHz, the R23 delivers a powerful and efficient performance, supported by 4GB of RAM and a spacious 64GB ROM. The 8-inch display features a capacitive touch screen with a resolution of 1280×800, providing crisp visuals and a responsive touch interface. Running on the latest Android 12 operating system, this tablet offers a user-friendly experience with access to a multitude of applications.
Weighing in at 500g, the R23 is designed with durability in mind, making it suitable for industrial environments. The tablet's hard exterior and availability of an SDK (Software Development Kit) further enhance its versatility for professional use. The USB Type-C charging and drive interface ensure convenient connectivity.
The R23 is equipped with a 5000mAh battery, providing ample power for extended usage. The tablet supports multiple networks, including WiFi, GSM, 4G, and 3G, ensuring seamless connectivity wherever your work takes you.
Capture moments and conduct business efficiently with the 2+5MP dual cameras, offering versatility in various scenarios. The tablet also comes with after-sales support, including a call center and online technical assistance, as well as repair services.
Originating from Guangdong, China, the Retails Tab R23 bears the OEM brand name, denoting its commitment to quality and innovation. Whether you're in the field, on the shop floor, or in a professional setting, the R23 stands out as a reliable, robust, and feature-rich choice for industrial tablet computing. Retail's Technology.