Retails T6 POS Terminal
Model: T6
* i5, 8GB RAM, 256GB SSD
* 15.6" screen size smart design
* 1x Ethernet, 1 x VGA, 1X HDMI, 6 x USB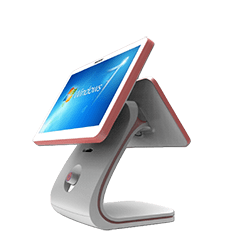 OS
Windows  11 / 10
CPU
Intel Core-i5
Memory+SSD
4GB + 256GB
Main Display
15.6″ Capacitive Touch Screen (1920 x 1080 resolution)

Customer Display

(Optional)

11.6″ LED Display
External Interfaces

1×RJ9(Serial)

1×RJ12

1×RJ45

6×USB

1×Headset Jack φ 3.5mm

LAN
TCP/IP Ethernet 1000M
Loudspeaker
1.5W
Power Adaptor

Input: 100~240V AC

Output: 24V/2.5A DC

Dimension
315.5mm×379mm×179.1mm
Certifications
CCC, FCC, CE
Retails T6 POS Terminal Price 
Empowering Efficiency with Cutting-Edge Technology
Unleash the Power of the Retails T6 POS Terminal
Revolutionize your business operations with the Retails T6 POS Terminal, the pinnacle of technological innovation in the realm of point-of-sale systems. Engineered with an Intel i5 (10th Gen) processor, this cutting-edge device delivers unmatched speed and performance, allowing you to streamline your transactions and maximize productivity. With 8GB of RAM and a lightning-fast 256GB SSD, the T6 POS Terminal ensures smooth multitasking and effortless data processing, empowering you to handle high-volume transactions with ease.
Seamlessly Intuitive Design for Enhanced User Experience
Experience the Future of Retail with the Retails T6 POS Terminal
Elevate your customers' shopping experience to new heights with the sleek and modern design of the Retails T6 POS Terminal. Featuring a vibrant 15.6-inch screen size, this visually stunning device offers crystal-clear display quality, making every transaction interaction an immersive and engaging experience. The smart design of the T6 Terminal integrates seamlessly into your retail environment, effortlessly blending functionality with aesthetics. Its user-friendly interface ensures that your staff can navigate the system with ease, reducing training time and boosting efficiency.
Versatility and Connectivity for Enhanced Business Potential
Unlock New Possibilities with the Retails T6 POS Terminal
The Retails T6 POS Terminal is not just an ordinary point-of-sale system; it is a gateway to endless possibilities. Equipped with an array of connectivity options, including 1x Ethernet, 1x VGA, 1x HDMI, and 6x USB ports, this terminal provides unparalleled versatility to adapt to your business needs. Seamlessly integrate peripherals such as barcode scanners, printers, and cash drawers to create a customized and efficient checkout experience. The T6 Terminal empowers you to optimize your operations, automate tasks, and ensure smooth and reliable transactions, leaving you with more time to focus on what truly matters – growing your business.